Global Beatbox 145 (16.02.2017) Tribute To Ronnie Davis
Veröffentlicht am Donnerstag, 16. Februar 2017 von Peter Roth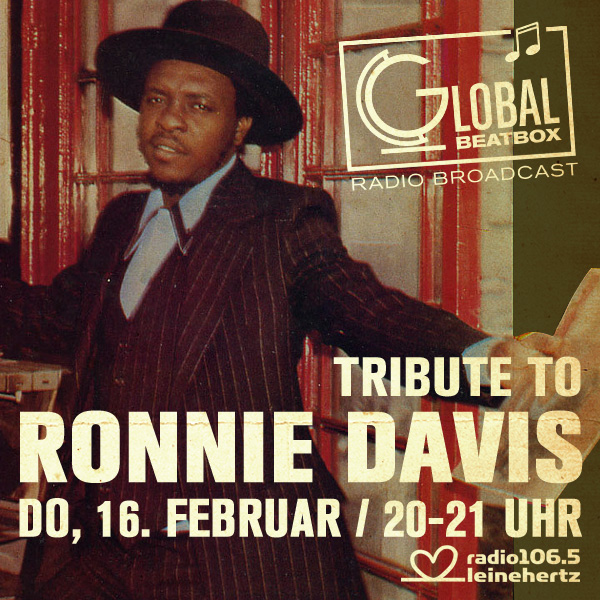 Das neue Jahr hat gerade erst begonnen, aber schon wieder heißt es von einem jamaikanischen Musiker Abschied zu nehmen, vom Roots Reggae Sänger Ronnie Davis.
Ronnie Davis begann seine Karriere Ende der 60er Jahre in den Gesangsgruppen the Westmorelites und the Tennors, in den 70er Jahren startete er dann eine Solokarriere, die er bis ins letzte Jahr hinein erfolgreich fortsetzte. Am 25. Januar starb Ronnie Davis im Alter von 67 Jahren.
Die Global Beatbox mit Peter Roth erinnert in der kommenden Sendung an diesen vielseitigen Sänger.
Donnerstag, 22. Februar von 21 – 22 Uhr
Global Beatbox mit Peter Roth
auf Radio Leinehertz 106.5
PLAYLIST
Ronnie Davis: Nation Against Nation (On Top)
Ronnie Davis: Jah Jah Jahovah (Micron)
Ronnie Davis: Run Come (Mod Squad)
Ronnie Davis: Got To Go Home (On Top)
Ronnie Davis & the Tennors: The Stage (Tennors)
Tennors: I Want Everything (Tennors)
Tennors: Baff Boom (Tennors)
Tennors: I´ve Got Soul (CR)
Tennors: Hopeful Village (Treasure Isle)
U Roy: Hot Pop (Treasure Isle)
Tennors: Weather Report (Duke Reid)
Ronnie Davis: I Won´t Cry (U-Man Rites)
Ronnie Davis: No Weak Heart (On Top)
Ronnie Davis: The Power Of Love (Rosie)
King Tubby: King Tubby´s In Fine Style (Rosie)
Ronnie Davis: Won´t You Come Home (Spider Man)
Itals: Ina Dis Ya Time (Spider Man)
Ronnie Davis: Laugh It Off (Grotto)
Ronnie Davis: Rivers Of Babylon (Jamaica Sound LP 'Sings For You And I')
Page One: Babylon Must Fall (Jamaica Sound LP 'Rock A Dub')
Ronnie Davis: Kaya (Attack)