Global Beatbox 015 (09.05.2013) Harry Johnson R.I.P.
Veröffentlicht am Donnerstag, 09. Mai 2013 von Peter Roth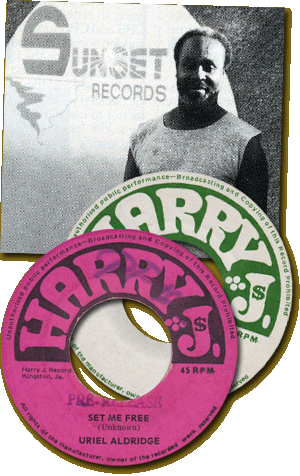 Tribute to Harry J
Am 3. April ist der jamaikanische Plattenproduzent Harry Johnson im Alter von 67 Jahren gestorben.
Harrys Produktion "No More Heartaches" aus dem Jahr 1968 gilt als eine der ersten Reggaeplatten, weitere Hits wie Lloyd Robinsons "Cuss Cuss" und Winston Wrights Orgelinstrumental "The Liquidator" folgten 1969.
1972 eröffnete das Harry J Studio in Kingston, in dem nicht nur Bob Marley einige seiner wichtigsten Alben aufnahm, sondern das auch internationale Stars wie die Rolling Stones, the Who und Grace Jones für ihr Plattenaufnahmen nutzen.
PLAYLIST
Desi Roots: Don´t Know Why I Love You So (Harry J)
Bob & Marcia: Young Gifted And Black (Harry J)
Virtues: Your Wife And Mother (BMN)
The Beltones: No More Heartaches (Harry J)
Lizzy: More Heartaches (Harry J)
Harry J All Stars: Musical Weather (Harry J)
Lloyd Robinson: Cuss Cuss (Harry J)
Carl Bryan: Soul Scorcher (Trojan UK)
Harry J All Stars: Spyrone (Harry J)
Richard Ace: Hang 'em High (Trojan)
Tony Scott: What Am I To Do (Estick)
The Harry J All Stars: The Liquidator (Harry J)
Bongo Herman, Les & Bunny: Chairman Of The Board (Harry J)
Jamaicans: Early In The Morning (Escort)
The Cables: Equal Rights (Harry J)
The Arabis: Jump High Jump Low (Harry J)
The Woodpeckers: Zumbelly (blank)
Marcia Griffiths: Don´t Let Me Down (Harry J)
Trevor Shield: Please (Stop Your Crying) (blank)
Vincent Foster: Shine Eye Gal (Escort UK)
Joe Higgs: The World Is Upside Down (Roosevelt)
Lloyd & Carey Johnson: Down Side Up (Roosevelt)
Scotty: Skank in Bed (Harry J)
Sheila Hylton: The Bed´s Too Big Without You (Jaywax)
Heptones: Country Boy (Harry J)