Global Beatbox 135 (15.09.2016) Tribute to Prince Buster Part 1
Veröffentlicht am Donnerstag, 15. September 2016 von Peter Roth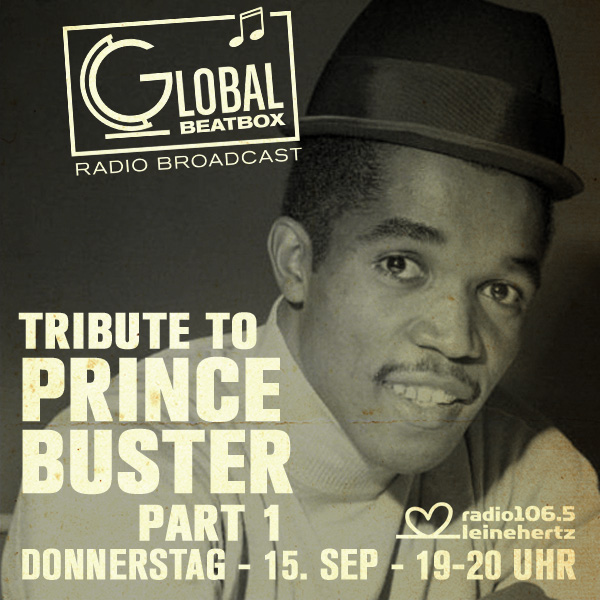 In der letzten Woche erreichte die Reggaegemeinde eine traurige Nachricht: Prince Buster, der King of Ska ist tot.
Prince Buster war der letzte Überlebende der großen Ska-Produzenten der 60er Jahre, über 1000 Stücke hat er im Laufe seiner Schaffenszeit von 1961 bis 1972 aufgenommen und damit die Entwicklung der jamaikanischen Popmusik vom jamaikanischen Rhythm and Blues bis zum Reggae entscheidend mit beeinflusst. Nebenbei war der Mann auch noch Soundsystembetreiber, Besitzer eines Schallplattenladens und eines großen Jukeboxnetzes auf Jamaika und zumindest kurzzeitig professioneller Boxer!
Im ersten Teil meines Prince Buster Specials geht es in dieser Global Beatbox einmal quer durch die Karriere dieses vielseitigen Produzenten und Sängers, the mighty Prince Buster.
Donnerstag, 15. September von 19 – 20 Uhr
Global Beatbox mit Peter Roth
auf Radio Leinehertz 106.5
PLAYLIST
Prince Buster: Come Along (blank)
Prince Buster: Earthquake On Orange Street (Olive Blossom)
Prince Buster: The Greatest (Blue Beat LP 'Fly Flying Ska')
Eric Morris: Humpty Dumpty (Buster Wild Bells)
The Folkes Brothers: Oh Carolina (Buster Wild Bells)
Buster´s Group: Buster´s Shack (WIRL)
Prince Buster: My Sound That Goes Around (Voice Of The People)
Prince Buster: Everybody Ska (My National Ska) (Amy)
Prince Buster All Stars: Al Capone (Voice Of The People)
Don Drummond: Ska Town (Voice Of The People)
Hortense Ellis: Somebody Help Me (Fab)
Prince Buster: Bye Bye Baby (Fab)
Prince Buster: Smart Countryman (RCA Victor LP 'Prince Buster sings his Hit Song Ten Commandments')
Prince Buster: Intensified Dirt (Olive Blossom)
Prince Buster: The Scorcher (New Dance Called Reggae) (Fab)
Prince Buster: Hit Me Back (Prince Buster)
Prince Buster: Big Five (Prince Buster)
Prince Buster All Stars: Swing Low (Fab LP 'The Message Dubwise')
Prince Buster All Stars: Saladin (Fab LP 'The Message Dubwise')
Roland Alphonso: One Heart (Prince Buster)