Global Beatbox 155 (20.07.2017) Reggae Box Sets Special
Veröffentlicht am Donnerstag, 20. Juli 2017 von Peter Roth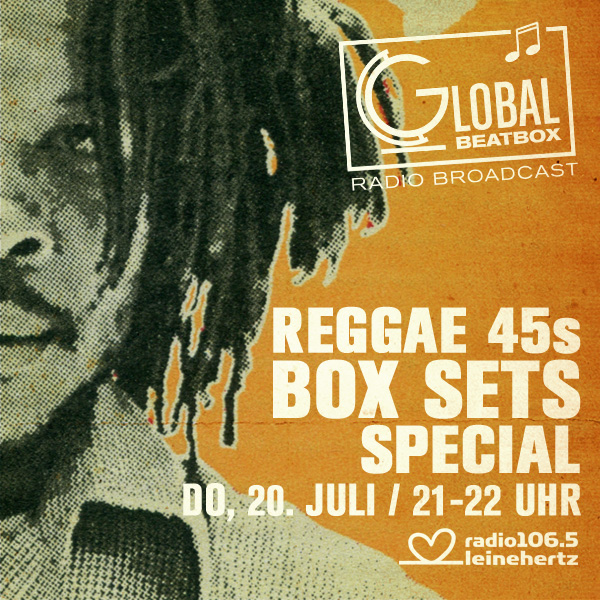 Vinylschallplatten sind ja angeblich wieder im Kommen und so setzen auch die großen Reggae-Wiederveröffentlichungslabels auf analoge Tonträger, gerne auch im handlichen 7-inch Format.
Aber nicht nur das, alle drei "großen" Reggaelabel, Trojan, Pressure Sounds und Soul Jazz Records haben in diesem Jahr Boxen mit mehreren Singles mit jamaikanischer Musik der 60er und 70er Jahre auf den Markt gebracht.
In dieser Global Beatbox stellt Peter Roth die Erscheinungen vor: "Spirit of '69" (Trojan Records), "Studio One HiFi" (Soul Jazz Records) und "Songs of Love and Unity" (Pressure Sounds Records).
Donnerstag, 20. Juli von 21 – 22 Uhr
Global Beatbox mit Peter Roth
auf Radio Leinehertz 106.5
PLAYLIST
The Pioneers: Love Love Everyday (Spirit of '69 / Trojan)
The Hippy Boys: Apollo 11 (Spirit of '69 / Trojan)
Clancy Eccles: Chinaman (Spirit of '69 / Trojan)
Drumbago & the Dynamites: Dulcemania (Spirit of '69 / Trojan)
The Silvertones: Come Look Here (Spirit of '69 / Trojan)
Vin Gordon: Everybody Bawling (Spirit of '69 / Trojan)
Vin Gordon: Reggae Trombone (Trojan)
Hopeton Lewis: There She Goes (Trojan)
The J Boys: Easy Sound (Spirit of '69 / Trojan)
Tyrone Evans: If This World Were Mine (Spirit of '69 / Trojan)
Lloyd Robinson: Cuss Cuss (Spirit of '69 / Trojan)
Joseph Hill: Behold The Land (Studio One HiFi / Soul Jazz Records)
Tommy McCook & the Skatalites: Full Dread (Studio One HiFi / Soul Jazz Records)
Dobby Dobson: Seems To Me I´m Losing You (Studio One HiFi / Soul Jazz Records)
Larry Marshall: I´ve Got To Make It (Studio One HiFi / Soul Jazz Records)
The Magnificent Seven: Jack Johnson (Studio One HiFi / Soul Jazz Records)
Augustus Pablo: Dread In A Red (Songs of Love and Unity / Pressure Sounds)
King Tubby: King Tubby´s Rock (Songs of Love and Unity / Pressure Sounds)
Yabby You: Lazy Mood (Songs of Love and Unity / Pressure Sounds)
Smith & the Prophets: Valley Of Joeasaphat (Songs of Love and Unity / Pressure Sounds)
Yabby You: Stop Your Quarrelling Dub Plate Mix (Songs of Love and Unity / Pressure Sounds)
Yabby You: Stop Your Quarrelling Version (Songs of Love and Unity / Pressure Sounds)